By jennifer.joyce, Gilbarco C-Store Advisor
Some individuals may think it is easier to stay with the status quo than change. However, what if your forecourt is losing money and customers – doesn't it make sense to make some changes? Gilbarco Veeder-Root has been in the fueling industry for over 20 years and understands the need for resources to aid in your business's potential for growth and revenue. That is why these 5 tips have been developed to help prepare and prevent.
Increase security: The liability shift will be a big financial risk if your forecourt is not EMV-compliant. Being EMV-certified and having the technology to accept EMV payments will not only protect your c-store from chargeback bills down the road but will also protect your customers from fraud NOW.
Get ALL of the data: Making the right decision for your business is a daily task. That is why it is important to get all the facts and figures so that your c-store can optimize sales and save money from costly and inefficient actions. Through Gilbarco's Insite360 Passport, you can monitor, configure and control your point of sale through an easy-to-use, cloud-based dashboard. Additionally, Insite360 Passport will allow you to do this anywhere at any time – saving you constant trips to your business and helping you manage your store efficiently to save unnecessary costs.
Aging Dispensers?: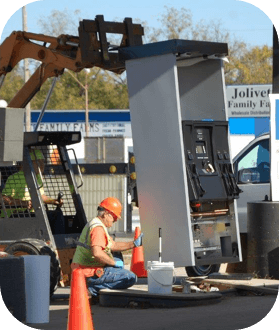 Really examine your dispensers. How old are they? Because the forecourt makes up 75% of your annual sales dollars, it is important to ensure your fueling dispensers are reliable, manageable, and cost-effective. By not considering updating your equipment, you leave your forecourt vulnerable to many harmful factors: chargebacks, slow throughput, downtime and more. Additionally, updating to more reliable equipment and even cutting-edge technology will not only increase your ROI, but will also boost your brand.
Increase loyalty: By not constantly looking for ways to connect with customers, your business is missing a great opportunity to build your loyalty base. Loyal customers bring in steady profits versus those that just stop by occasionally. Through loyalty programs, you are encouraging the customer to choose your c-store over the others. Media at the pump will entertain and inform customers while fueling their vehicles. Tap-and-go payments provide a sense of control, choice, and security. Doing either of these adjustments will increase loyalty and strengthen customer relationships.
Catch the upselling moments: How do you upsell to customers that do not come inside the store? How do you advertise without pushing products? What are the best ways to engage and consistently nurture loyal customers? The answer is simple – great customer service. By offering great customer experiences, your customers will prefer your c-store. Whether it is offering entertainment at the pump, providing easy and safe payment options or incorporating technology that enables loyalty programs, you are essentially inviting customers to revisit your store.